Plan SubmittalS
Plans Examination Process
Check to see if your project is in SCCFD's jurisdiction.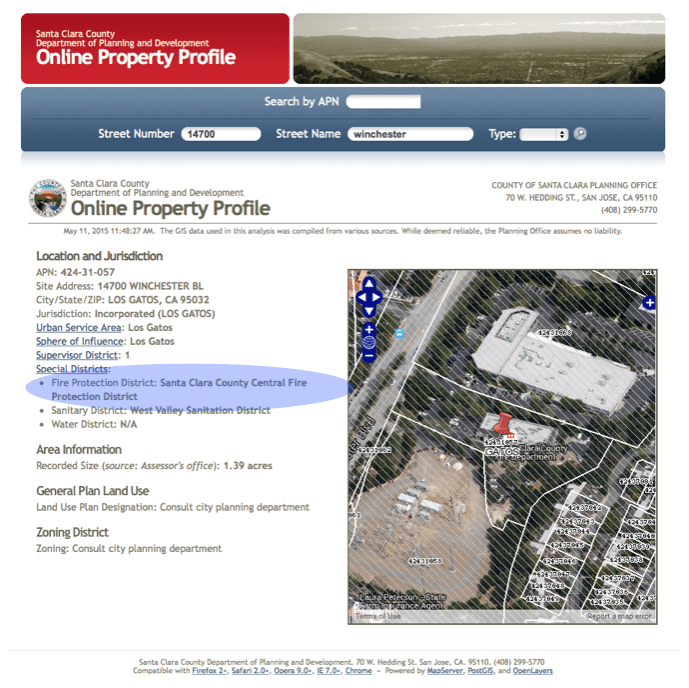 Submit to: 16795 Lark Ave, Suite 200, Los Gatos, CA
Properties located in the unincorporated areas of Santa Clara County need to be submitted to 70 W. Hedding, 7th Floor San Jose, CA. Call (408) 299-5760 for more information on the process.
Find and complete the application
Submittal Turn Around Time:
Original submittals will be turned around in ten business days or fewer.
Afternoon submittals will be date stamped for the following business day.
No fees for resubmittals, revisions, or as-builts.
Resubmittals, revisions, and as-builts will be turned around in five business days or fewer.
All submittals will be given a Fire Prevention plan check number for reference.
To schedule an inspection, call (408) 378-4010 and ask to speak to Fire Prevention.
Necessary Items for Plan Submittals
ALARM
Application
A copy of the Building Permit from the city/town must be included (if applicable)
3 Sets of plans – minimum size 24″ x 36″
2 Device Cut sheet
2 Battery Calculation
2 Voltage Drop Calculation
2 CSFM Listing Info
Business license for city/town work is being performed in
Fee
SPRINKLER
Application
Fee
3 Sets of Plans – minimum size 24″ x 36″
2 Calculations
2 Manufacturers' data and listing sheet for each sprinkler model being used
A copy of the Building Permit from the city/town must be included (if applicable)
Business license – for city/town work is being performed in
Copy of water supply data from water purveyor indicating location and date. The water flow data must have been taken within the last 12 months.
NOTE: For hydraulically designed systems, the information on the hydraulic data nameplate shall be located on the plan.
NFPA 13 (2016) 23.1.3
HOOD & DUCT, ETC.
Application
Copy of system design specifications/manual
3 Sets of Plans – minimum size 24″ x 36″
A copy of the Building Permit from the city/town must be included (if applicable)
Business license for city/town work is being performed in
Fee
HAZ MAT
Submittal items will vary
Contact the Fire Prevention Division at (408) 341-4420
Fire Protection System Submittals
Fireworks
Hazardous Material Plan Submittals
Model Rocket
Over the Counter Submittals
Overtime
Schedule an Inspection
Tents and Membrane Structures