2022 Fire Prevention Week (FPW)
Safety Campaign
National Fire Protection Association (NFPA)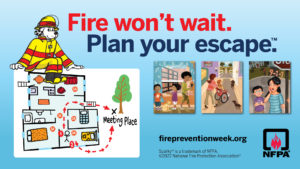 Celebrating 100 Years…
Santa Clara County Fire Department is teaming up with the National Fire Protection Association® (NFPA) —to celebrate the 100th anniversary of Fire Prevention Week (FPW), October 9-15, 2022. This year's FPW campaign, "Fire won't wait. Plan your escape",  works to educate everyone about simple but important actions you can take to keep yourself and those around them safe from home fires.
We encourage all residents to embrace the 2022 Fire Prevention Week theme. Here are some key home fire escape planning tips:
Make sure your plan meets the needs of all your family members, including those with sensory or physical disabilities.
Smoke alarms should be installed inside every sleeping room, outside each separate sleeping area, and on every level of your home. Smoke alarms should be interconnected so that when one sounds, they all sound.
Know at least two ways out of every room, if possible. Make sure all doors and windows open easily.
Have an outside meeting place a safe distance from your home where everyone should meet.
Practice your home fire drill at least twice a year with everyone in the household, including guests. Practice at least once during the day and at night.
For more information about Fire Prevention Week and safety education, visit www.nfpa.org/fpw and sparky.org.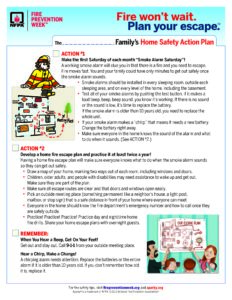 Importance of Safety & Prevention
In a fire, seconds can mean the difference between being able to safely escape a home fire and a tragedy. Fire safety education is important for all ages, including children, teenagers, adults. The elderly are also at risk in fires, making it important for every member of the community to take some time every October during Fire Prevention Week to make sure they understand how to stay safe in case of a fire.
History of Fire Prevention Week
Since 1922, the NFPA has sponsored the public observance of Fire Prevention Week. In 1925, President Calvin Coolidge proclaimed Fire Prevention Week a national observance, making it the longest-running public health observance in our country. During Fire Prevention Week, children, adults, and teachers learn how to stay safe in case of a fire. Firefighters provide lifesaving public education in an effort to drastically decrease casualties caused by fires.
Fire Prevention Week is observed each year during the week of October 9th in commemoration of the Great Chicago Fire, which began on October 8, 1871, and caused devastating damage. This horrific conflagration killed more than 250 people, left 100,000 homeless, destroyed more than 17,400 structures, and burned more than 2,000 acres of land.
Safety Games & Activities for Young Children
Resources for Kids: http://www.sparky.org/
Kids learn best in a hands-on, interactive way. At Sparky.org, kids can find games, activities, and more to help them learn essential fire safety while playing games they will love.
Teach Fire Safety. SAVE Lives.  
Resources for Educators: https://sparkyschoolhouse.org/
Sparky's Schoolhouse is where fire safety connects with learning and where teachers can find all of the lessons, classroom resources, educational videos, and games they need for Fire Prevention Week and for yearlong fire safety education.
---
Santa Clara County Board of Supervisors
Fire Prevention Week Proclamation 
At the October 4, 2022 Santa Clara County Board of Supervisors meeting, Supervisor Mike Wasserman presented the Santa Clara County Fire Department with a proclamation to recognize the 100th year anniversary of National Fire Prevention Week (October 9-15th). Join us, along with other fire agencies throughout Santa Clara County to celebrate our nation's longest-running public health observance!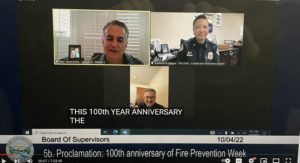 Supervisor Mike Wasserman, Board President, presenting the 2022 Fire Prevention Week Proclamation to Fire Chief Suwanna Kerdaew and Deputy Chief Hector Estrada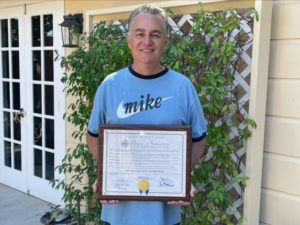 President Mike Wasserman holding the Fire Prevention Week Proclamation
Additional Safety Information
Home Fire Safety (Smoke Alarms, Fire Extinguishers, Escape Planning, and more)
Years of Safety Education!