Santa Clara County Fire Department (SCCFD) offers American Heart Association (AHA) Hands Only CPR/AED training (no certification, 90 minutes) and Heartsaver CPR/AED training (2-year certification, 4 hours).  SCCFD does not offer First Aid training or Healthcare Provider/BLS training for EMTs, RNs or other professional rescuers.
CPR/AED AHA
On Demand Blended Learning

Course
(2-year CPR/AED Certification Card)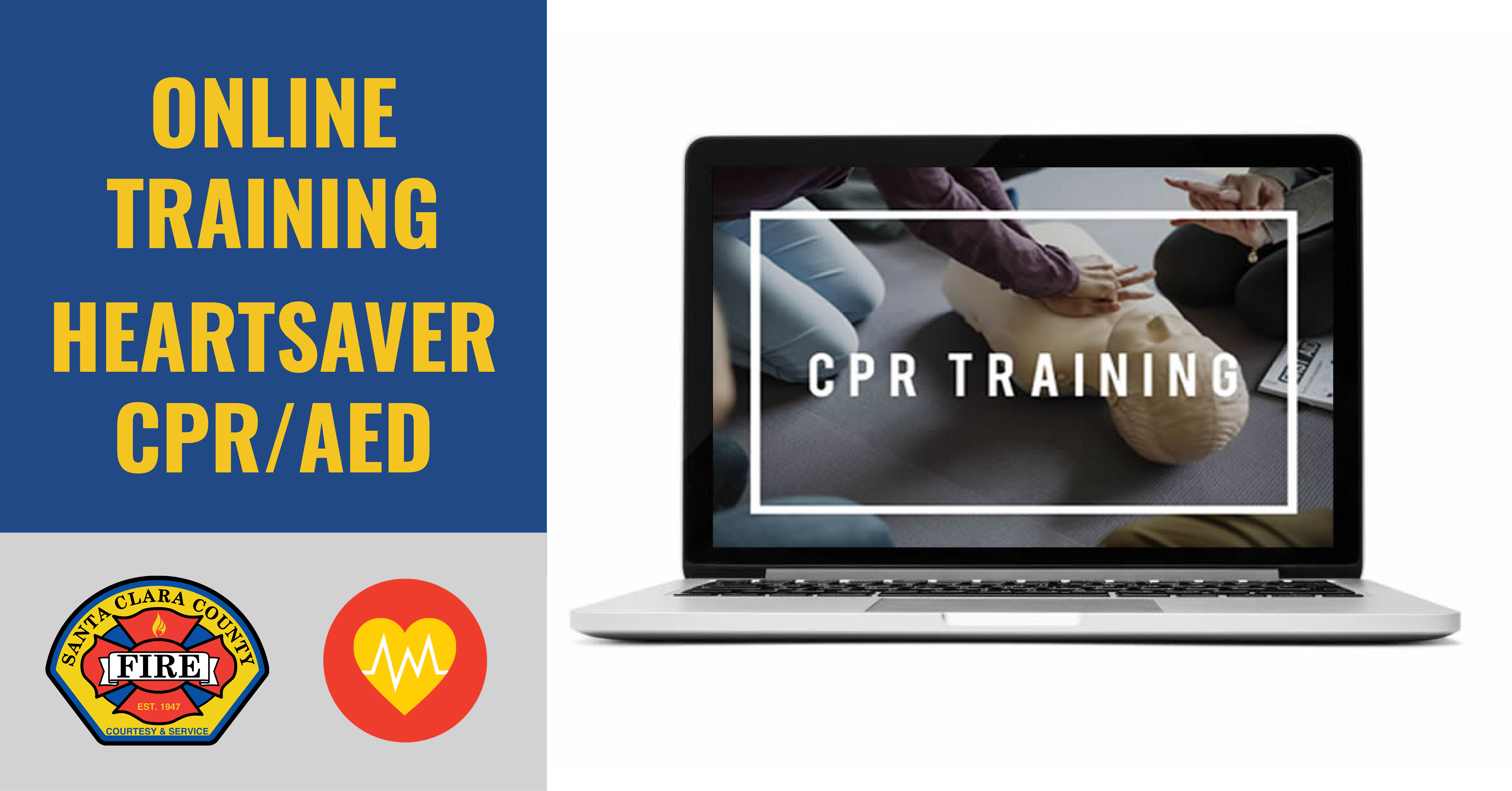 This is an AHA Heartsaver® CPR/AED blended learning course (online and in-person) and includes:
• Adult, Child & Infant CPR
• How to use an Automated External Defibrillator (AED)
• How to assist someone who is choking
• 2-year Heartsaver® CPR/AED AHA course completion card with CPR mask and gloves kit
Blended Learning Course has two parts:
1. Online videos and guided interactive exercises (2 to 3 hours to complete) that may be completed in one session or broken up into several sessions.
2. In-person skills practice and testing session (will take approximately 30 minutes) at a drop-in training site in Los Gatos, CA following social distancing requirements.
COST: $65
REGISTER: To register for a CPR class or for upcoming safety classes, visit:  http://sccfd.eventbrite.com
CPR Online Blended Learning Course flyer
Hands Only ONLINE CPR/AED/Choking Class
(No Certification)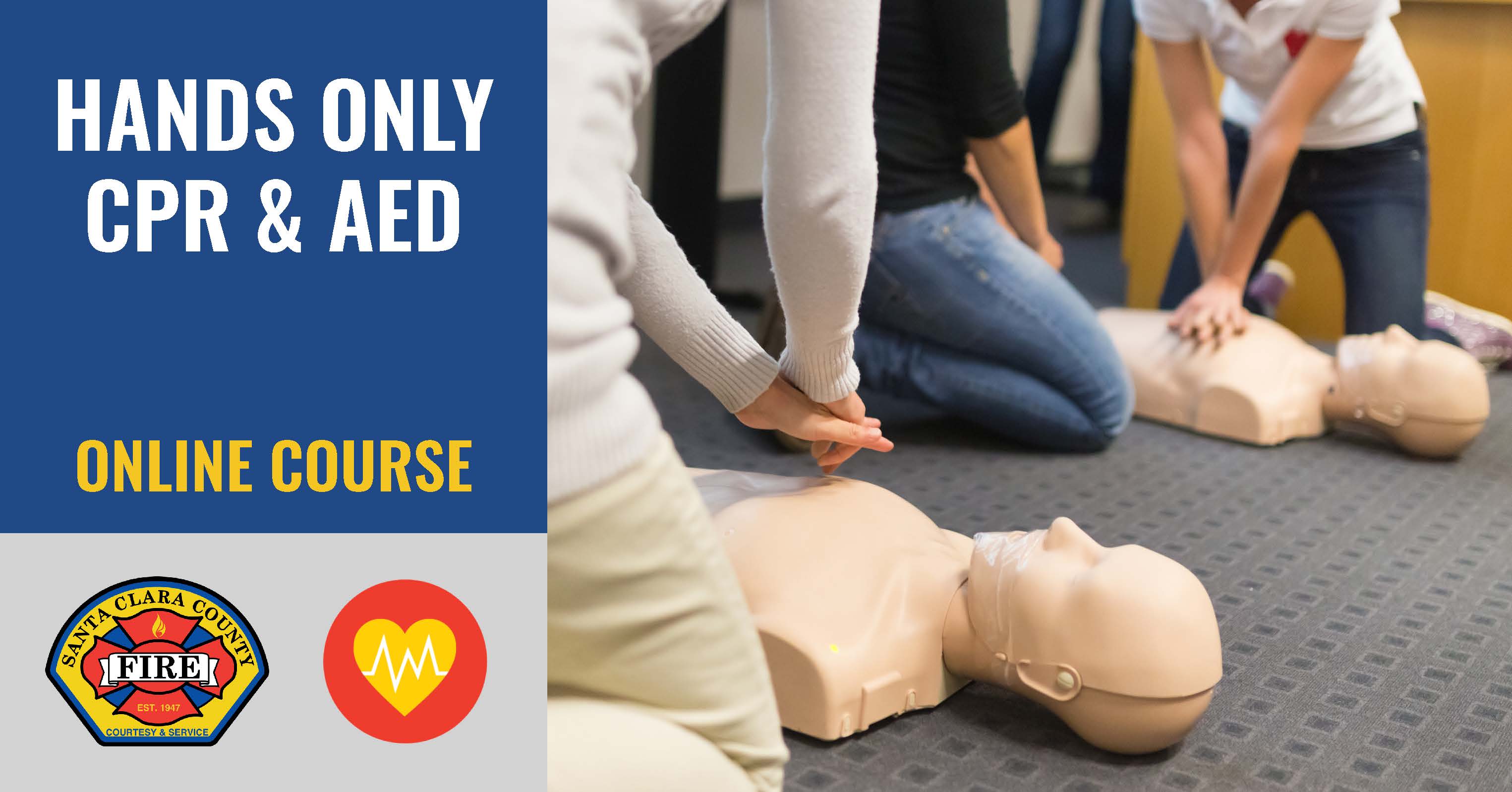 Hands Only CPR/AED/Choking Class is currently offered ONLINE. Participants will learn how to perform high-quality chest compressions on an adult and child, utilize an AED, and aid an adult or child who is choking.
Most often, citizens will need to perform CPR on a family member, friend, or co-worker. Learn how to perform proper compressions and how to use an AED in the precious moments before first responders arrive. This class follows the American Heart Association (AHA) CPR/AED curriculum.
Participants will learn:
How to perform chest compressions
Learn what an automatic external defibrillator (AED) is and how to use it
How to aid an adult or child who is choking
To participate in this class, please ensure you have the following ready:
Access to the Zoom Application via a computer, laptop, or iPad
Ability to turn your camera ON so the AHA Instructor can view you performing proper chest compressions
Access to a pillow or large stuffed animal to practice chest compressions
Participants will NOT receive a two-year CPR/AED certification card. 
To receive a CPR certification card, register for the On Demand Blended Learning AHA Heartsaver CPR/AED certification class listed above.
REGISTER: To register for a Hands Only CPR class or for upcoming safety classes, visit:  http://sccfd.eventbrite.com
2023 Hands Only CPR & AED ONLINE Class Schedule
_____________________________________________________________________
______________________________________________________________________
Follow Santa Clara County Fire Department on Eventbrite to stay informed about upcoming safety classes and community events: www.sccfd.eventbrite.com
Additional Providers for CPR/AED & First Aid Training:
Additional Resources

No matter how rapid the arrival of professional emergency responders, bystanders will always be first on the scene. A person who is bleeding can die from blood loss within five minutes, therefore it is important to quickly stop the blood loss. Those nearest to someone with life-threatening injuries are best positioned to provide first care.
You may be able to save a life by taking these simple actions immediately after the trauma.